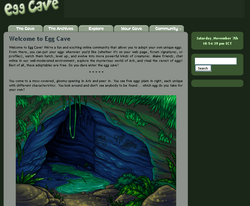 Egg Cave is an adoptables web site created by Ian McQueen on July 20, 2009. The artwork and layout of the site are done by Xepha and TJ.
Egg Cave has its own virtual universe called Ark, egg species, places and currency, the EC.
Ad blocker interference detected!
Wikia is a free-to-use site that makes money from advertising. We have a modified experience for viewers using ad blockers

Wikia is not accessible if you've made further modifications. Remove the custom ad blocker rule(s) and the page will load as expected.